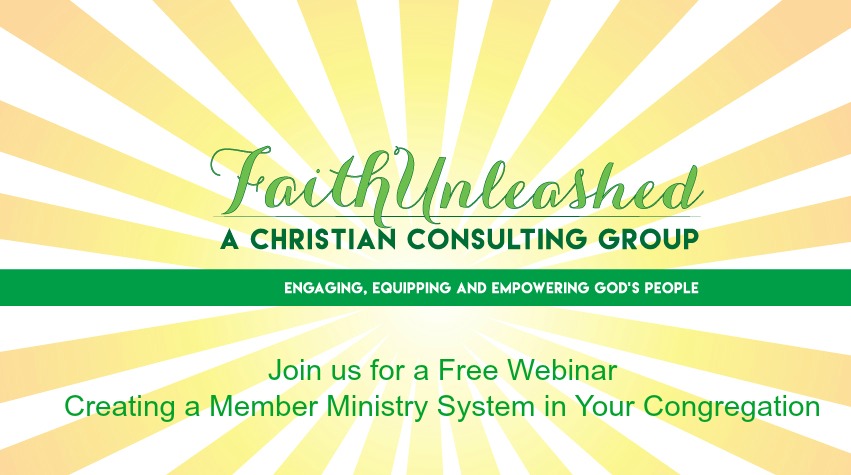 Would You Like to Engage More People in Ministry in 2018?
In January, we expanded our reach through the use of technology with a Free Webinar: Creating a Member Ministry System and an On-line Training Course: Multiply Member Ministry that went on with such sucess that I can't wait to offer them again! Below you will find the inforamtion on the Free Webinar and On-line Training Course. I can't wait to help YOU grow YOUR MINISTRY!
FREE WEBINAR: CREATING A MEMBER MINISTRY SYSTEM 
We will be hosting free online webinars entitled "Creating a Member Ministry System in Your Congregation" on April 7th and 11th. This one and a half hour live interactive webinar is designed to give pastors, lay leaders and volunteer or member ministry coordinators an overview of the 8 Key Components of a Member Ministry System.  If you'd like to get a general idea of how to create a sustainable Member Ministry System that engages, equip and empowers more of your members to live out their faith inside and outside the walls of your church, this webinar is for you! You can register here.
ON-LINE TRAINING COURSE: MULTIPLY MEMBER MINISTRY 
April 23rd – 26th we will launch an 3 ½ day, 15 hour online training course entitled "Multiply Member Ministry: Unleash People's God Given Potential." This course is designed for pastors, volunteer coordinators and church members, who want to develop a deeper understanding of the 8 Key Components of Member Ministry, build a team and implement a system that engages, equips and empowers God's people according to God's design for the church! You can register here.
Do you have questions? Please feel free to email me and schedule a time to learn more or just pick up the phone and send me a text or call!  My information is below.
If you haven't had a chance be sure to check out our website and follow our page on Facebook.
Blessings to you and yours as you prepare your hearts for the death and ressurection glory of our Savior this Easter season.
Serving our Savior,
Lori Lorig
lori.lorig@faithunleashedconsulting.com
708-431-9496