Faith Unleashed Consulting offers a variety of live webinars to engage, equip and empower the church. Check back often to see various relevant topics for today's changing church culture and how to help develop and encourage church staff and members.
Webinars are approximately 1 1/2 hours long, and most are offered at 9:00 AM CDT and 7:00 PM CDT, unless otherwise noted.
*If the scheduled webinar time does not fit with your schedule, please register and we can email you the recorded webinar.
Multiply Member Ministry (3 1/2 online course)
July 25-28
Get a first-hand look into what it takes to create a member ministry program in your church, where all members are using their unique passions and gifts in service to Him. This multi-day course provides a deep-dive into all aspects of getting a program off the ground and running to engage, equip and empower God's people inside and outside the walls of the church!
To learn more or register, CLICK HERE!
Creating a Member Ministry System in Your Congregation (free live webinar)
Wednesday, July 13 at 9 AM or 7 PM CDT
Offered at 9 AM CDT or 7 PM CDT, this free workshop provides a free introductory look into how to create program in your church that unleashes Christians to use their God-given gifts, talents and passions in service to him.
Click HERE for more details and to sign up!
The Facilitator's Guide Webinar
Wednesday, Aug. 10 at 7 PM CDT
or
Tuesday, Aug. 16, 2022 at 7 PM CDT
Let us help you engage, equip and empower women to guide women in the Word. Remember, facilitating a Bible study is about more than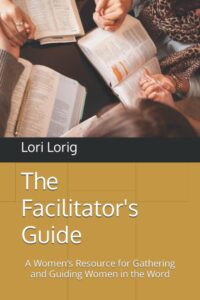 just teaching for head knowledge. It's about transforming lives with the truth of Scripture. God wants you to go and make disciples. He wants you to share what you know and guide others to the Truth. You don't have to do this alone. 
Join Bible study facilitator and author, Lori Lorig, as she walks you through some of the key components of effectively leading women in the Word using her new book, "A Facilitator's Guide: A Women's Resource for Gathering and Guiding Women in the Word." Choose between Wednesday, August 10 or Tuesday, August 16 from 7 to 8:30 p.m. CDT.  
You can also order her book, "The Facilitator's Guide" on Amazon. You don't need to read the book before the session begins.
Whether you are an experienced facilitator or someone just considering the idea, you will benefit from this lively discussion. Come find a community of support!
Cost for the webinar is $29.
FUEL your Leadership (12-session leadership development virtual workshop)
Sunday, Sept. 11, 2022 to Sunday, Aug. 13, 2022 at 6:30 PM CDT
Join us for this 12-session, year-long leadership workshop experience to transform your ministry and life from the inside out. Gather virtually with like-minded Christian peers in an interactive learning environment. It's time to invest in you for two hours each month! Get ready grow and develop as a leader and make a positive impact in your home, workplace, church and community!
Click Here for more details and to sign up!
MISSED A WEBINAR?
Check out our recorded webinars HERE!
More webinars coming to you soon, including:
Welcoming and Engaging Members in Ministry
Both new and seasoned members need to be welcomed and engaged to participate in the work of the church. Yet many congregations struggle to do this and especially now with Covid. Learn how to re-deploy those who were serving and reach out to others to engage for the first time even while we are social distancing. Be part of the discussion, share your ideas and learn some things that are working in other congregations.
Registration coming soon!
Identifying, Empowering and Developing Leaders in Your Congregation
Identifying leaders in churches can sometimes be like finding a needle in a haystack. And sometimes, the problem can be that we just expect leaders to appear. How did Jesus identify, develop and empower leaders? He chose ordinary people to serve in His kingdom but he was strategic in developing and empowering them. We can learn a lot from Jesus. Let's dig in together and learn how to recognize, equip and unleash passionate leaders.
Registration coming soon!
Understanding and Working More Effectively with Different Personalities
Ever been on a team of people and had one person just irritate you? Often those people have a personality opposite yours or just like yours and yet they have a different perspective. Successful team relationships are built around trust and valuing what each person brings to the team. The business world gets this better than the church. But teaching on and understanding personalities can help others to serve more effectively together. Register for this engaging webinar to understand how we are each uniquely wired right down to our personalities. We'll give you tips on how to work more effectively with different personality types.
Registration coming soon!