The Facilitator's Guide:
A Women's Resource for Gathering and Guiding Women in the Word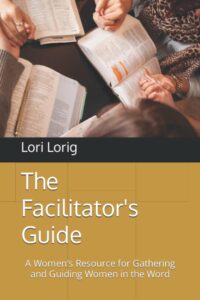 "Do not conform to the pattern of this world but be transformed by the renewing of your mind." (Romans 12:2)
Facilitating a Bible study is about more than just teaching for head knowledge. It's about transforming lives with the truth of Scripture. God wants you to go and make disciples. He wants you to share what you know and guide others to the Truth. With this guide, you can confidently step into the world of facilitating women's Bible studies.
Join Lori Lorig, as she thoughtfully takes you step by step in how to plan, prepare, facilitate for a Bible Study and troubleshoot sticky spots. This practical and easy to navigate guidebook covers all the basics from starting a group, meeting people where they are at, how to draw from life experiences, how to select study materials and much more. The back is full of extra resources including position descriptions to help your ministry stay organized, Bible study evaluation forms, sample surveys for Bible study ideas and suggestions, a timeline to prep for a study and much more.
Order your copy today on Amazon!
Review:
"In this resource, Lori carefully leads the reader through an intentional path to understand and learn to be a thoroughly equipped Bible study leader for women. It is easy to discern that she has been through this process herself in deep and meaningful ways. From the first sentences of welcome through the overview of how to select and review potential studies, the author sits down with the reader, holds her hand, and carries on a heart-to-heart chat that sequentially encourages and persuades. Courageously, she broaches possible pitfalls with a kind focus on godly interaction. Readers will discover how they can capably lead a study by following these steps.
As a longtime Bible study facilitator, I especially enjoyed her in-depth process of self preparation: choosing an appropriate study, getting your head and heart ready, marketing your study, and bringing others along! As a teacher, I appreciate the resources to reach every kind of learner through the power techniques of digging deeper and asking great questions."
–
Marilyn Sievert, BS-Ed, MS-Training & Development, Bible Study Leader, and disciple of Christ