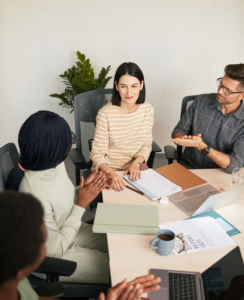 The Personal Member Ministry Network (PMM Network) is a valuable resource for member ministry coordinators and volunteer coordinators in church organizations to provide support, encouragement, fresh ideas, and strategies. PMM Network serves to support the staff that supports their home congregations and volunteer circles in order to cultivate and nourish vibrant, active, and flourishing ministries within their churches and communities.
What do you get from joining?
Monthly group

video conferences

with other coordinators across the country to share best practices

Direct mentoring from Personal Member Ministry Founder and Faith Unleashed Consultant, Lori Lorig

Develop professional relationships and contacts with others in your role in different church settings across the country

Network with other church leaders

Be the first to learn about new Webinar Wednesdays! 
The annual membership fee is only $119 a year (January 1 to December 31).
Click HERE to become part of the Network today!
Member Ministry Network Testimonials
"Member Ministry Network has provided a space where those in the ministry field can share, discuss, learn, and grow all to further the ministry of spreading God's Word. The network includes a wide range of those in the ministry field and we continuously are learning from and share with each other the ups and downs that we face. I always leave our monthly gatherings with a renewed fire for working in the ministry field, when I am unable to attend I truly miss the conversations but look forward to the information shared afterwards."
Katie Neuman, Activities Director, Christ Ev. Lutheran Church, Pewaukee, WI
"I enjoy being part of the Member Ministry Network because we get to share ideas and get help from people who understand what we go through as ministry coordinators.  We encourage and celebrate each other's victories, get needed support for struggles and strengthen each other with God's word."
Kristina John, Personal Member Ministry Coordinator, Good Shepherd Lutheran Church and School, Downers Grove, IL
"The open platform provides opportunities where we can share thoughts, ideas and concerns….  They have helped me open my eyes to see things sometimes from another perspective. It's encouraging to know that we are working together to help develop our ministries and find meaningful ministry work for our members as we seek to be a good church in the community."
Melissa Sanders, Member Ministry Coordinator, Trinity Lutheran Church, Crete, IL
"The Member Ministry Network has allowed me the great opportunity to connect and exchange ideas with so many other Church Ministry Leaders. The relationships formed through the Member Ministry Network have given me the means to not only share the experiences and knowledge that I have with others but it has also allowed me to learn and grow from those who are navigating the same roles within the area of Church Engagement."
Maria Keuschel, Ministry Engagement Coordinator, 922 Ministries (St. Peter/The CORE), Appleton, WI
"Having a specific time set aside to discuss ministry is a much-needed prompt to inspire and motivate me in my calling to serve in the area of member ministry in our congregation. It's about Jesus and his people – building their relationship and in the process the relationship we have with you, Lori, and each one on the call, taking what we've learned to our members…and bringing what we've experienced with our people to share with the network attendees. … The topics are timely and each month Lori shares her agenda thoughts of Scripture, encouragement from her many years of consulting along with practical documents."
Salley Valleskey, Abiding Word Church, Houston, TX