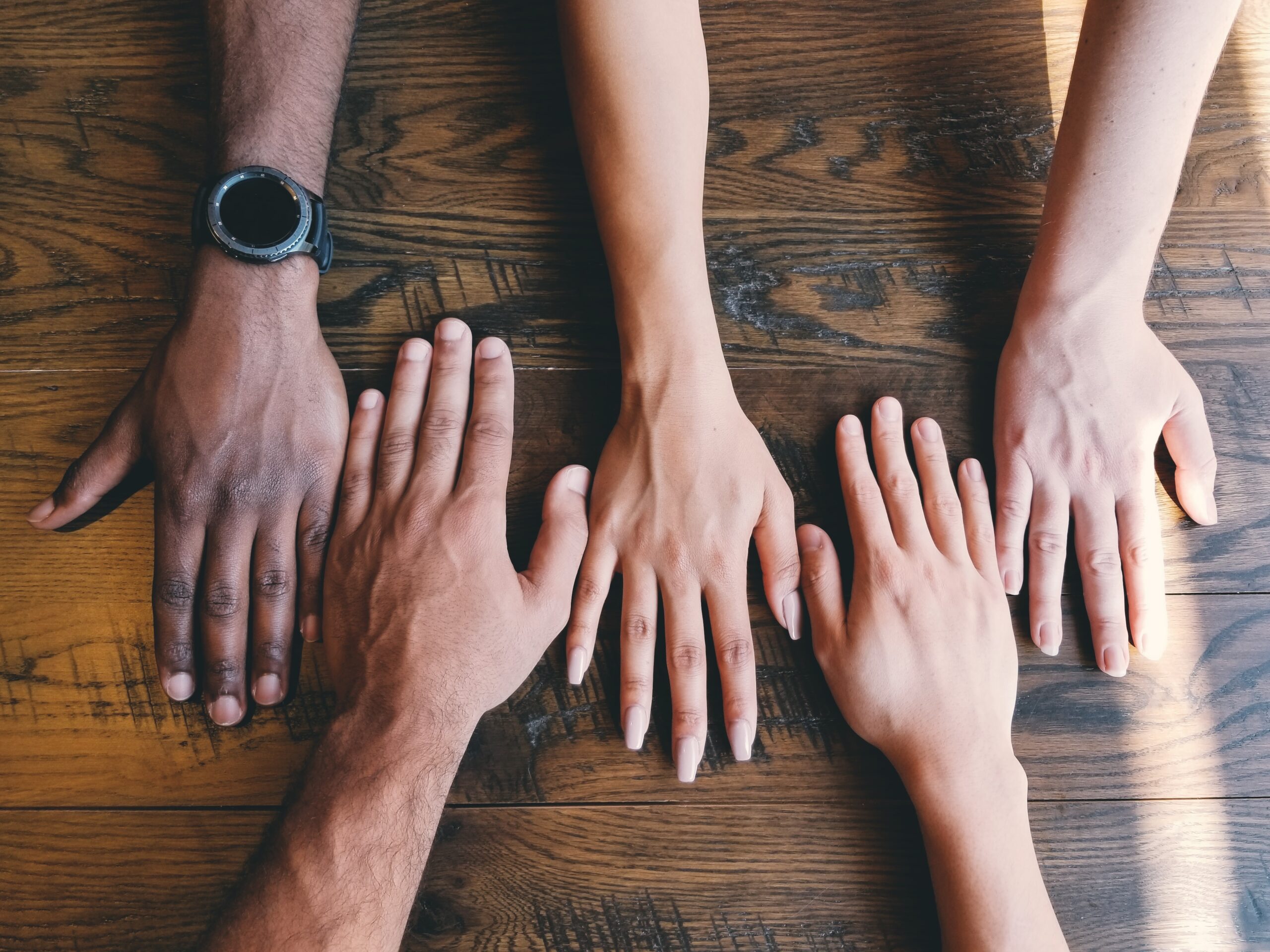 "Two are better than one, because they have a good return for their labor: If either of them falls down, one can help the other up. But pity anyone who falls and has no one to help them up. Also, if two lie down together, they will keep warm. But how can one keep warm alone? …" Ecclesiastes 4:9-12
I sit here today, still experiencing some isolation because of the Corona Virus. And my thoughts go to how those in the church so often try to do ministry alone or in a vacuum of sameness.
God didn't design us to be alone. He designed us to be in community. And not in a community of sameness.  Think about whom Jesus surrounded himself with. Certainly not people who thought, looked and acted just like him. Peter was bold and outspoken. Thomas was full of doubt.  And he did not just do ministry with men. Jesus was surrounded by, traveled with and ministered to both men and women. He had no physical, emotional, relational or cultural stand-offishness. He reached out to all people. He came for and included all people. In Matthew 28:8 we learn that God entrusted the saving message of the resurrection to the women to tell the male disciples. "So the women hurried away from the tomb, afraid yet filled with joy, and ran to tell his disciples." Hmmm. This seems pretty counter cultural. Yet God orchestrated it this way. Why?
And then Jesus transformed Saul- a Pharisee-a religious leader- into one of the great apostles. Saul was filled with hatred and control over Christians. He saw these people as out of control and on a wrong path. He stood as Stephen was stoned for his faith. He had formed his own ideas about how Jews were to behave. How they were to live. How Jesus was to behave! Who was Paul influenced by? Was he more influence by the Jewish religious leaders of his time or by Jesus and God's Word? The religious leaders had made themselves into their own gods desiring power, control and complete influence. People couldn't speak up against them- even their own – who had been trained by them but where led to see something different through God and his Word. Did Paul have any influence over those religious leaders?
Paul partnered with many men and women throughout his lifetime. Look at a list that begins in Romans 16:1-4.
"I commend to you our sister Phoebe, a deacon of the church in Cenchreae.  I ask you to receive her in the Lord in a way worthy of his people and to give her any help she may need from you, for she has been the benefactor of many people, including me.
 Greet Priscilla and Aquila, my co-workers in Christ Jesus.  They risked their lives for me".
In Romans 16:12-14 Paul identified numerous women who led in the Christian communities alongside him and other men.
Greet Tryphena and Tryphosa, those women who work hard in the Lord.
Greet my dear friend Persis, another woman who has worked very hard in the Lord.
 Greet Rufus, chosen in the Lord, and his mother, who has been a mother to me, too.
 Greet Asyncritus, Phlegon, Hermes, Patrobas, Hermas and the other brothers and sisters with them.
Paul wrote, "Now you are the body of Christ and each one of you is a part of it." 1 Corinthians 12:7
Male leadership in our churches needs to value the diversity God created and all the lay people whom he has called and entrusted to do his work.
"For by the grace given me I say to every one of you: Do not think of yourself more highly than you ought, but rather think of yourself with sober judgment, in accordance with the faith God has distributed to each of you."  Romans 12:13
Men and women should be working together and not segregated.  Women most certainly had a voice in Jesus' world and most certainly in Paul's world.  Make no mistake this was counter-cultural to the times and so was Jesus.  Jesus freed us from the yoke of slavery and made us all one in Christ.  Jesus tore down walls that the Pharisees had constructed. And yet, our society, our world, our church body still constructs walls.
In Galatians 3:28, Paul wrote: "There is neither Jew nor Gentile, neither slave nor free, nor is there male and female, for you are all one in Christ Jesus."
In Acts 2:17-18 Luke writes:
"'In the last days, God says,
    I will pour out my Spirit on all people.
Your sons and daughters will prophesy,
    your young men will see visions,
    your old men will dream dreams.
Even on my servants, both men and women,
    I will pour out my Spirit in those days,
    and they will prophesy."
The gifts God has given to women are given for the common good. That means all people- both men and women. It doesn't say women's gifts are for the good of women and children. So where are the voices of our women in our congregations? In our synod? Do women have a seat at the table? Are they valued for the gifts and talents they have or are they relegated to the kitchen or to minister solely to women and children? As a woman, with the gift of leadership, and a heart for the church- the body of Christ- the people who are to be the hands and feet of Jesus, I say it's time to stop handicapping the body of Christ. We need all hands on deck- both the male and female. The body has been divided and handicapped long enough. We need people of all genders, races and ages working together to advance God's purpose here on this earth. We are better together than we are apart.
When we can work and serve together we expand our perspective, our knowledge and our abilities. We gain synergy. No one has all of the gifts of the Spirit. We are designed to partner together and gain that synergy. Stephen Covey defines synergy as "the collective agreement to subordinate an old script and write a new one. This requires openness, willingness and ideas of all involved."
I would encourage church leadership to consider where we've been stuck in old ways of thinking and old outdated methods. If your organizational structure is over 20 years old I'd encourage you to look at it. Why are we doing things in the way we are doing them? Just because we've never done it that way doesn't mean it's wrong.   To be clear, I'm not looking for women to be in the pulpit or to have spiritual authority over people's lives. But the devil has gained a foothold and made our synod and our churches less than effective.  Look at the synod's statistics. More than two-thirds of our congregations are declining not adding more than one new person in an entire year! Church decline is not unique to the WELS but that doesn't excuse us from examining our methods. I think we have to be realistic in asking the question, "How can we best steward all of the human resources that God has provided?" It's time to update our methods. The Church desperately needs all hands on deck!