Member Ministry Coordinator
Conference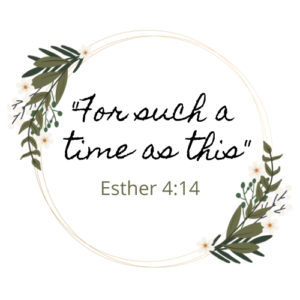 Feb. 18-20, 2022 in
Lake Geneva, Wisconsin

Welcome! I am so excited for you to join us for our first and hopefully annual Member Ministry Conference and Retreat! Get ready for an energizing and impactful weekend of learning, resource gathering and fellowship with fellow ministry coordinators and ministry workers, where I hope you will get inspired from this conference's theme based on Esther 4:14, as you were made "For Such a Time as This!"
Lineup of Speakers:
Lori Lorig, Founder of Faith Unleashed Consulting – Conference facilitator walking you through the story of Esther and the truths and applications you can apply to ministry
Shannon Bohme, Mission Journeys Coordinator – Introducing short term mission trips to congregations with the help of WELS Mission Journeys Program to connect lay people to the mission field
Maria Keuschel, Ministry Engagement Coordinator of St. Peter in Appleton, WI. – Supporting People in Ministry: Ministry Appreciation and Ministry Fairs
Melissa Sanders, Personal Member Ministry Coordinator, Trinity Lutheran, Crete, IL. – Engaging People in Ministry: Hosting a Faith in Action Day
Lodging/Conference Location:
One or two neighboring houses (depending on how many sign up) in Lake Geneva, WI.
House 1: W4110 West End Road, Lake Geneva, WI 53147
House 2: W4106 West End Road, Lake Geneva, WI 53147
Schedule:
Check in Friday 18, 2022 between 5 pm and 5:30 pm, with dinner at 6 pm. You are welcome to come earlier to spend the day in the beautiful Lake Geneva area, including the quaint downtown area filled with shops, cafes, and restaurants. The conference wraps up 9:30 a.m. on Sunday, Feb. 20. A more detailed schedule will come out soon.
Registration and Fees:
Total fee is $399 due by Dec. 15. This includes all lodging, all meals (5 total) and refreshments, and printed materials.
To Register:
Cancellation Policy:
Due to the cost required to secure lodging months in advance, we will not be able to do any refunds.
AGENDA
Friday
Check in / Settle in

Dinner

Born to Blend In or Stand Out: Esther and You
Saturday
Breakfast

Opening Devotion

The Challenges of the Church Today and Addressing the Issues

When Things Get Hard: Finding and Keeping Your Joy in Ministry

Goal Setting and Learning from Esther: She Hesitated / The Plan / Gathering the People

Lunch

Engaging People in Ministry: Hosting a Faith in Action Day – Melissa Sanders

Supporting People in Ministry: Ministry Appreciation and Ministry Fairs – Maria Keuschel

Reflection Time and Goal Setting

Mission Journeys: Leading a Team on a Mission Trip – Shannon Boehme

Cocktails and Dinner / The Celebration
Sunday Morning
Breakfast

Worship

Sharing Your Plan / Going home inspired and taking your action plans with you